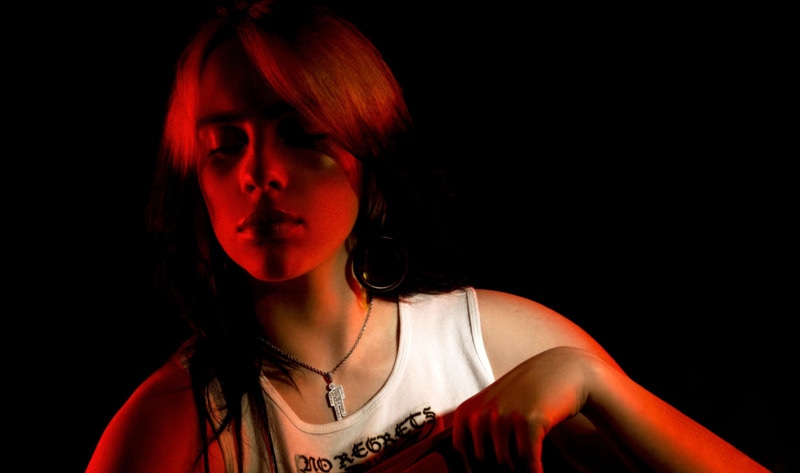 New film Billie Eilish: The World's a Little Blurry—a documentary about vegan pop singer Billie Eilish—is scheduled to premiere in cinemas and on Apple TV+ on February 26, 2021. Made by Apple Original Films and in association with Interscope Films, the documentary is directed by Emmy Award-winning filmmaker R.J. Cutler, who created documentaries such as The War Room, A Perfect Candidate, Thin, and The World According to Dick Cheney. A teaser trailer for the film launched earlier this year and a full-length version of the trailer will debut tomorrow.
While more information about the film has yet to be disclosed, Eilish previously discussed her feelings about being documented ahead of her performance at iHeartRadio's ALTer EGO concert in January 2020. "I've seen no part of [the documentary]," the 18-year-old musician said. "I'm terrified. I'm freaked out. They've been filming since like July of 2018. Who has that much footage of them that they've never seen? I'm terrified."
Billie Eilish's vegan life
Eilish has been vegan since 2014 and in recent years has become increasingly outspoken about the damaging effects of animal agriculture on the environment, often using her social media platforms to urge her fans to go vegan. Between co-producing her Grammy Award-winning album When We All Fall Asleep, Where Do We Go? with her brother and fellow vegan pop star Finneas O'Connell and launching a vegan clothing line with H&M, Eilish helped promote her mother Maggie Baird's Support + Feed initiative, which supports vegan restaurants while providing food to frontline workers and others in need during the COVID-19 pandemic.